Travel Backgammon Sets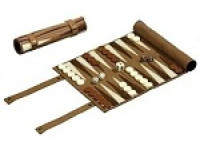 Bringing a travel backgammon on the trip is a must!
It's actually the most popular board game throughout the ages given that it's 5000 years old and still how popular. We have lots of small backgammon boards, magnetic in leather and felt, foldable in fabric, or in wood of different woods weighing no more than a pound.
---
Showing 1 to 21 of 21 (1 Pages)