Sunday open at the store, 3 December 12:00-16:00

Welcome to Gammon.Games
You have found one of Europe's largest selection of classical games and perhaps Europe's largest in terms of backgammon and chess. Our focus is on making your game purchases the best gaming experience for you and therefore we offer the best quality at the lowest possible price simply. Hope to hear from you!
Backgammon Combination Sets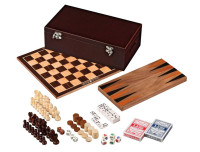 Multi-game or Combo?
It is simply about a box or cassette containing many games. The most common multi-game, usually called "Three in one", contains Backgammon, Chess and Dam, which are the oldest and most popular games throughout the ages.
---
Showing 1 to 9 of 9 (1 Pages)

Featured
Bestsellers
Latest
Gammon.Games
Gammon.Games is a leading company for classic strategy games. Our personal interest in strategy games and the physical social meeting that takes place between the players, are our driving forces. These strategy games have survived for thousands of years and are today a popular way to socialize, compete and face new challenges while the brain gets a hefty dose of exercise and stimulation.
Through our webshops, we sell games directly to consumers all over the world, but we also sell to gaming clubs and companies via wholesaler gamewholesaler.com