Sets of Chess Pieces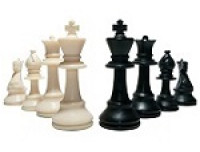 Chessmen are the most exciting choices in a chess set.
The most of pieces are made of plastic and wood. Many of them in common wood such as maple, boxwood, and pine and some in more expensive exotic woods such as rosewood, mahogany and ebony. We can offer chess pieces in all kinds of wood, designs and prices, designed in the world's most beautiful Staunton design in both classic and modern style. Buying chess pieces is important, so be careful about your choice. If you're not sure, ask us!
---
Showing 1 to 55 of 55 (1 Pages)